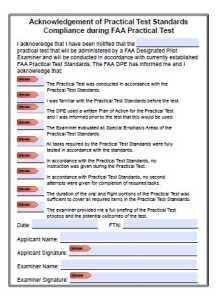 Most examiners are aware that in an effort to obtain feedback from applicants about DPE practical test procedures, compliance with required regulations and guidance, and overall examiner quality, FSDO staff have been tasked with surveying a limited number of applicants for whom each examiner conducted practical tests each year.
This effort is intended to help improve examiner compliance and quality and to determine if any examiners are not conducting practical tests in compliance with all required guidance.
Some of the questions asked to applicants are such that in their nervousness of taking a practical test, they may not always be aware of all the procedures an examiner is following. In an effort to help bring awareness of examiner briefing content and procedures, some training providers and examiners have begun using an acknowledgement form that the applicant and the examiner sign at the beginning or end of the test. This form is then kept in the event of any question about the applicant's knowledge of procedures or briefing content at a later date.
One of the larger training providers using this at this time is ATP, who uses this with their applicants on behalf of the examiners at locations throughout the country (Click Here to See the Sample of their Form).
In an effort to provide a potential form that others may use, we have developed a form here for your consideration.
Click Here for an "Acknowledgement of Practical Test Standards Compliance during FAA Practical Test – iPad Form" that can be printed, signed on a computer, or used on an iPad when you conduct practical tests.
*NOTE: This form is offered for your consideration but has received no official FAA endorsement for use. If you have any suggestions for modification please provide them.